Swim Across America and VP&S Partner to Fight Pediatric Cancers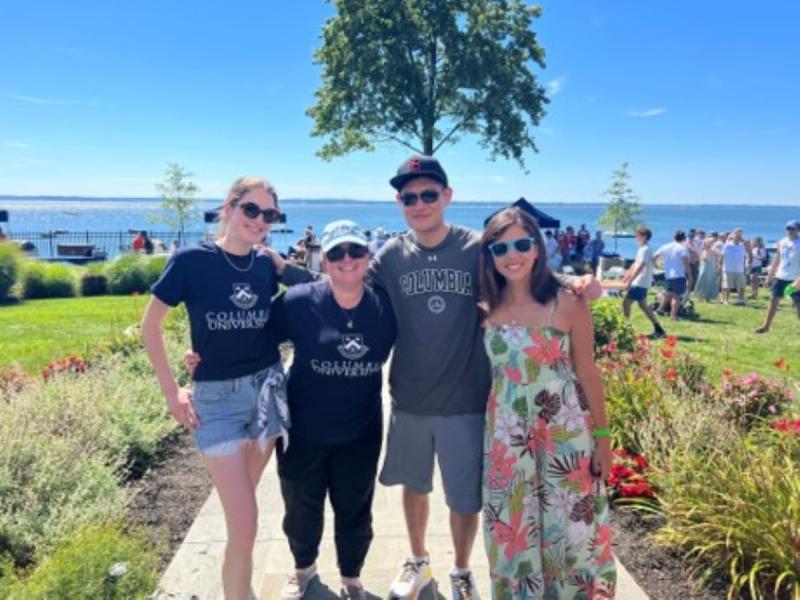 For over 20 years, Swim Across America (SAA) and Columbia's Vagelos College of Physicians and Surgeons have joined together in the fight against pediatric cancers. SAA's support of the work of faculty in the Division of Pediatric Hematology, Oncology, and Stem Cell Transplantation has been a cornerstone of our progress, as our investigators learn more about the immune systems response to childhood cancers, especially Diffuse Midline Glioma (DMG), one of the most devastating brain tumors in children, with a fatality rate of 100%. Columbia investigators are seeking to find the main drivers of tumor development and progression, to discover the best therapies to combine and attack these tumors, while also improving drug delivery, to treat them more effectively.
Recently, Swim Across America has supported the work of Dr. Robyn Gartrell, whose work focuses on bringing immunotherapies to pediatric cancer patients, and helping close the gap with adult cancer research, which is ten years ahead of pediatrics. Ongoing funding from Swim Across America has been instrumental in launching Dr. Gartrell's career as an independent investigator, helping her to establish her own laboratory, where her work focuses on the immune microenvironment of the most difficult childhood tumors.
Dr. Gartrell was recently awarded a Department of Defense Career Development Grant, which started in May 2023, supporting her work investigating radiation and immune response in DMG.  Swim Across America provided valuable seed funding, allowing Dr. Gartrell to assemble the preliminary data which is a necessary condition of awards of this magnitude.  These grants ensure that a significant percentage of her time will be devoted exclusively to this work.
Dr. Gartrell also works on clinical trial development for both pediatric brain tumors and solid tumors outside the brain. She recently received approval from the National Cancer Institute's (NCI) Cancer Therapy Evaluation Program (CTEP) for a Children's Oncology Group (COG) clinical trial using combination chemotherapy, radiation and immunotherapy (chemo-radio-immunotherapy (CRIT)) for treatment of nasopharyngeal carcinoma (NPC). She is collaborating with a team in Germany to compare parallel studies with similar approaches to treat NPC. Dr. Gartrell has been invited as a guest speaker at the International Society of Pediatric Oncology (SIOP) 2023 Annual Meeting to be held this October in Ottawa, to present this work.
Swim Across America's support has allowed Dr. Gartrell to expand her research to develop this clinical trial and others, while also working with other teams at Columbia University Irving Medical Center in developing new therapy approaches for children with DMG. Swim Across America has also supported investigators Drs. Jovana Pavisic and Fred Wu – who are working with Dr. Gartrell to find a cure for a specific subtype of DMG, diffuse intrinsic pontine glioma (DIPG), a rare and fast-growing tumor in the brain stem that is especially challenging to treat, and cannot be surgically removed, making it a diagnosis with a grave prognosis.
Dr. Gartrell's work has demonstrated that radiation therapy, as used in DIPG, can recruit immune cells, which possess tumor-killing capabilities. This finding is the cornerstone of her DOD-CDA and also a concept for a national clinical trial, combining radiation and immunotherapy for DIPG and other progressive brain tumors. In tandem, these interventions may prove more successful than any individual therapy, which may improve the effectiveness of immunotherapy in treating childhood cancers.
Recently, Dr. Wu has been working with Assistant Professor of Pediatrics Luca Szalontay, MD, as part of Columbia's Initiative for Drug Delivery Innovation (IDDI) and Columbia's Department of Biomedical Engineering, to test a non-invasive method to circumvent the blood-brain barrier that restricts the size and chemical composition of molecules that can pass through it and into brain tissue, which inhibits treatments for many brain tumors. This Columbia study is among the first in the world to assess this new, non-invasive technique in children with brain tumors. Since the late 2000s the number of pediatric brain and spinal tumors has been on a slight but steady uptick, and these often deadly diseases are on course to overtake leukemia as the most common cancers in children.
Funds from Swim Across America continue to transform pediatric cancer research at Columbia. Drs. Gartrell, Pavisic, and Wu are now combining their efforts in a three-pronged attack on DIPG. Together, they are responding to the urgent need for new approaches to this deadly tumor, with a goal of transforming the outcome for children living with DIPG.
The Swim Across Long Island Sound is July 29th. You can find more information on their website or donate to the Columbia SAA team at http://www.swimacrossamerica.org/goto/ColumbiaSeaLions23