Campus Revitalization
A Vibrant New Home for Future Leaders of Medicine and Science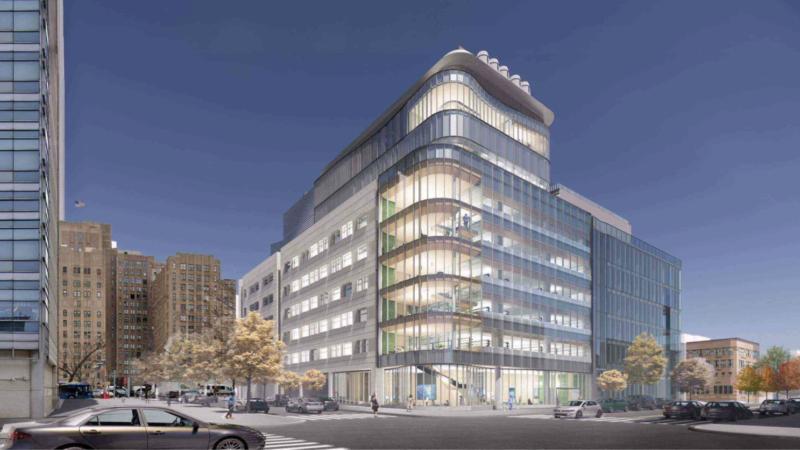 Learn more about Columbia's flagship research building for the next decade.
Today, medicine is at a tipping point. We have more tools than ever before to transform what medicine can do for patients, thanks to unprecedented and accelerating advances across science and technology.
Columbia has the scientific firepower to lead this revolution in patient care. Our faculty expertise spans all the disciplines in basic, translational, and clinical research that are needed to deliver new treatments. Our power to impact human health, however, is currently limited by our lack of modern research space.
Answering the urgent need for research space on Columbia's medical campus, our new flagship research building will be a modern ecosystem to support our scientific firepower and launch crucial new projects.
The Columbia Center for Innovative Therapeutics will be home to state-of-the-art laboratories and flexible spaces to promote collaboration, both internally among our scientists as well as externally with the residents of our community. The building will lead in sustainability, as one of the first laboratory buildings in New York City not to rely on fossil fuels—making it "net zero–ready," with the aim to become carbon neutral before 2050.
The new Columbia Center for Innovative Therapeutics will become the flagship facility for our research mission, much as the Vagelos Education Center has become for our educational mission.
Columbia University Irving Medical Center recently embarked on a number of other exciting campus revitalization efforts.
As the Vagelos College of Physicians and Surgeons (VP&S) marked its 250th anniversary, the Roy and Diana Vagelos Education Center heralds a new campus era for our school. This state-of-the-art building provides advanced learning resources for our medical and graduate students to achieve their potential as tomorrow's top clinicians and biomedical scientists. Nurturing our students' growth into leaders of academic medicine, the Vagelos Education Center will help ensure the lasting strength of VP&S in patient care, research, and medical education for the next quarter-millennium.
Combining these resources with social spaces and student services, the Vagelos Education Center is a bustling second home for students on campus. It fosters a dynamic culture of learning through its unique, multi-floor Study Cascade, which melds social and study spaces. This layout facilitates the small-group collaboration integral to our curricula, helping students hone the teamwork skills essential for the practice of modern medicine and its advancement through research. The cross-pollination of ideas between medical and graduate students will help Columbia continue graduating true physician-scientists, who will lead and improve patient care.
The Vagelos Education Center was championed by P. Roy Vagelos, VP&S'54, and chair of the Medical Center's Board of Advisors. Designed to be an adaptable part of our campus for many years to come, the Vagelos Education Center has year-round climate control for energy efficiency and sustainable features targeting LEED Gold certification.
With its iconic design and beautiful green spaces for students to relax and recharge, the Vagelos Education Center kicks off a larger campus revitalization effort by Columbia University Irving Medical Center. As we commemorate over 250 years of VP&S, we thank everyone who contributed to this vitally important project. Your generosity supports the future achievements of our graduates and our institution's ongoing leadership of clinical care, research, and medical education—for the ultimate benefit of patients around the world.
At Columbia University Irving Medical Center (CUIMC), we are proud to be a part of the vibrant Washington Heights and Inwood neighborhood. Among our greatest strengths are the partnerships we have forged with our neighbors and the dynamic organizations that have made this location a global destination for patient care, scientific discovery, medical education, and community service. Now, we plan to continue to enhance the physical environment to remake the neighborhood experience for our community and for our students, patients, and faculty with another essential project: Haven Plaza.
Our new Vagelos Education Center has illustrated how innovative spaces have a positive impact on the people who use them.
We now respectfully ask you to join us by making a gift to support the construction of Haven Plaza and name a component of the project. The development of Haven Plaza is an opportunity to create a welcoming atmosphere in our neighborhood for all who come to CUIMC.