Medical Education
Educating the Next Generation of Medical Leaders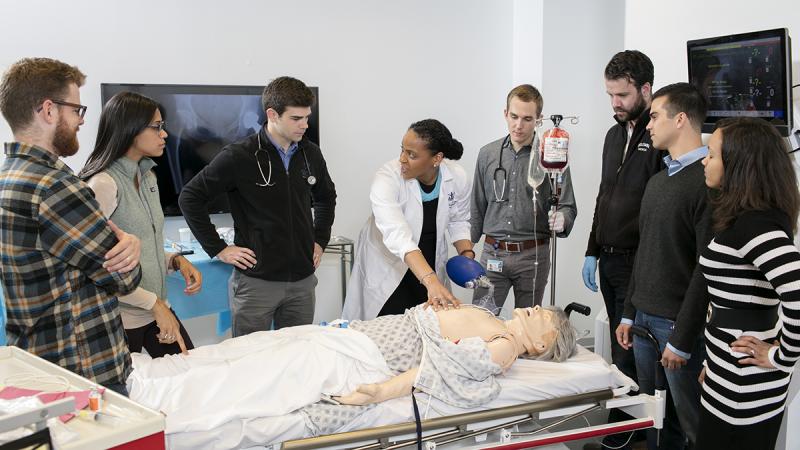 Columbia's Vagelos College of Physicians and Surgeons (VP&S) is dedicated to educating and training the next generation of medical and scientific leaders. Our diverse students are passionate and motivated to become the nation's top doctors and scientists. They share a singular commonality: dedication to caring for patients and advancing modern medicine for the benefit of people everywhere. 
A medical education at Columbia fosters a commitment to life-long inquiry, as our students learn to anticipate future health needs and think critically about all aspects of patient care, research, and public health. Today, exciting changes that build upon this legacy are enhancing the academic experience at VP&S.
A new curriculum that emphasizes exploration and introduces direct patient care earlier allows students to discover and build upon their interests while placing the patient at the center of their learning from the start. Our students also have access to expanded learning facilities, modernized classrooms and high-tech simulation resources, which also benefit our faculty and patients.
To eliminate barriers to a Columbia medical education, VP&S has set a goal to raise an additional $20 million in our scholarship endowment in support of financial aid. Under the VP&S Student Support Initiative, donors can contribute to an existing Endowed Scholarship Fund or establish a new one by making a pledge, bequest or donation and receive a 1:2 match to a Scholarship Fund.
One of our top priorities is increasing scholarship funding, so we can continue bringing the most talented medical students to VP&S. Each scholarship gift to VP&S not only opens doors for a medical student, but also creates a ripple effect that impacts countless patients' lives. 
For more information on funding student scholarships please view our brochure, or contact Laura Tenenbaum, Senior Director of Development, at LRT2113@columbia.edu or 212-342-2108.
Hear from our students to learn more about the impact of our scholarship program.