Esther E. and. Lewis P. Rowland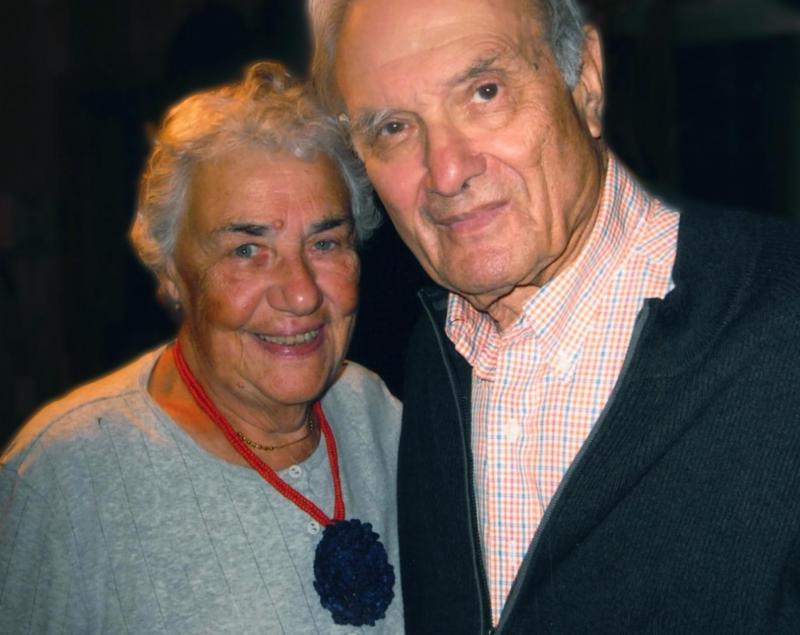 Lewis "Bud" Rowland, MD was a world-renowned neurologist, chair emeritus and professor of neurology at Columbia University Vagelos College of Physicians and Surgeons (VP&S). Over the course of 25 years, Dr. Rowland chaired Columbia's Department of Neurology and it became one of the best neurology programs in the world. During his tenure as chair, he founded two neurological disease centers at Columbia. In honor of her late husband's legacy, and in accordance with his wishes, Esther Rowland made a significant gift to benefit the VP&S Department of Neurology.
Richard P. Mayeux, MD, Chair, Department of Neurology said, "Bud Rowland's career was dedicated to the care of patients, the education of trainees and research. Thus, it was no surprise that his last gift to the department was to support these three endeavors. His passion for the welfare of patients was as infectious as his drive to understand the causes of neurological disease."
When asked about the gift, Mrs. Rowland explained, "He attributed so much of his success in life to the institutions that he was lucky enough to be associated with. So that when it came to writing a will later and, sending contributions during his lifetime, he was always very adamant about giving money to Yale, which was his undergraduate school and then his medical school and, Columbia of course, for the big neurology training program that launched his career." Before returning to Columbia, Dr. Rowland was professor and chair of the Department of Neurology at the University of Pennsylvania School of Medicine from 1967 to 1973.
Mrs. Rowland went on to explain the timing and nature of the gift, "his admiration for Columbia and his appreciation for Columbia was so strong that he wanted to leave a sizable amount of money in his will. When he died, of course, his will became my will and I was the first priority. So, I decided that since it was such a strong feeling on his part that money get to Columbia, that it would be a good idea to give it right away… And that became very important."
Joy Rosenthal, Mrs. Rowland's daughter, clarified, "she wanted to make sure that Columbia actually got the funds that my father intended and she wanted to be able to see it during her lifetime." Mrs. Rowland, elaborated, "One of the benefits of that was that the family would see how the money was spent and be witnesses to the honor that it gave him."
The generous gift has three components: the Lewis P. Rowland, MD Endowed Lecture Fund; a current-use fund to support a historical research project that will document the history of modern neurology; and the Esther E. and Lewis P. Rowland Neurology Fund, a quasi-endowed fund to be used at the discretion of the Chair of the Department of Neurology.
On March 29, 2019 Robert H. Brown, Jr., DPhil, MD presented at the Inaugural Lewis R. Rowland, MD Endowed Lecture Fund. Mrs. Rowland said, "so far there've been two lecturers." The second annual Lecture speaker Stanley H. Appel, MD presented at the last Grand Rounds before the pandemic hit New York City. 
About the history project, she explained, "he was very interested in the history of the department. And he was sort of a Saturday night historian or whatever you call it and loved the idea of tracing the development of neurology." She went on to say, "we have one son who's an oral historian by profession. Steve actually started interviewing the members of the department."
Dr. Rowland chaired the VP&S Department of Neurology and directed NewYork-Presbyterian's Neurology Service from 1973 to 1998. He was known for research in neuromuscular diseases and age-related neurodegenerative diseases, especially ALS. He wrote many papers and edited two books on ALS. Decades ago, he predicted that genetics would come to dominate research into Alzheimer's and other neurological diseases and advocated for what became translational neuroscience with his founding of Columbia's centers for amyotrophic lateral sclerosis and muscular dystrophy.
Joy Rosenthal said, "My father understood the genetic components and was interested in molecular genetics a long, long time ago…He was a visionary… and knew what direction research should go, he was quite amazing in that."
Mrs. Rowland shared more about her late husband, "There was almost no limit to how far his vision extended. Within the department, one of his special and unique talents was not to be a bossy boss, not to tell the people, the young people working under him, what to do, but rather to hear them out and then he let them loose and encourage them to just go ahead and go do exactly what they wanted to do. He listened very carefully to the young people who had any good ideas which direction to move and he just gave them free reign. After he died, one after another of the people he trained told us that he was their mentor. He was like a father figure. He was a very, very special kind of beloved chairman."
She added, "I think it's important to know that another very important side of Bud was his belief in social justice and his belief in equality and he was a real humanist and he fought for minorities in medicine. He fought for women in medicine and he fought for equal treatment of people who were poor or rich." Mrs. Rowland went on to explain, "We met at a party for national health insurance in 1952. Oh, wow. And that was his passion."