Velocity: Columbia's Ride to End Cancer Raises $1M

On Sunday, October 8, hundreds of people – riders, Velocity Your Way participants, volunteers and festival supporters – came together to raise $1 million for Velocity, Columbia's Ride to End Cancer. The annual event supports cancer research and care programs at Columbia's Herbert Irving Comprehensive Cancer Center. 
Riders opted for one of three distances, 15K, 50K and 100K, and shared updates from the route highlighting the beautiful Hudson Valley views. Velocity Your Way participants, who took part in the event by completing a range of different activities from various locations, as well as family, friends and supporters, enjoyed the Velocity Day Festival welcoming riders as they returned to cross the finish line at The Centre in Purchase, NY.
In an opening ceremony, Katrina Armstrong, MD, dean of the Columbia University Vagelos College of Physicians and Surgeons and executive vice president for health and biomedical sciences at Columbia University said, "You are an essential part of our efforts to show that world-class cancer care and research is thriving here at Columbia and across the world and everybody who walks through our doors we give hope." She added, "I'm totally psyched to be out here riding with all of you."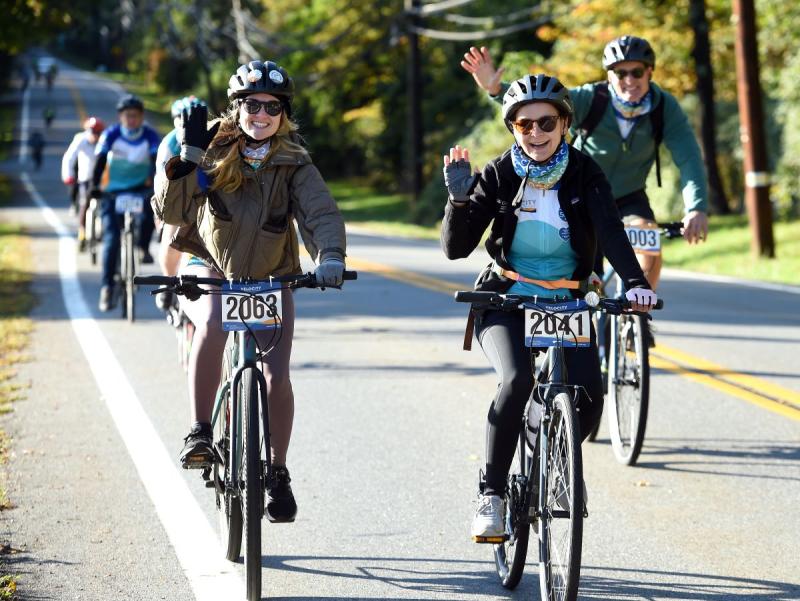 Anil Rustgi, MD, director of the Herbert Irving Comprehensive Cancer Center, paid tribute to the many riders and Velocity supporters and presented a special award in honor of the late Mark Heaney, MD.
"Dr. Mark Heaney was a brilliant physician, a devoted teacher and mentor, a trusted friend and humanitarian who was very dedicated to all aspects of Velocity," Dr. Rustgi said.  "It's in his honor that we've created the Dr. Mark Heaney Award that is presented to a physician who embodies everything he stood for."  The award was presented to Brian Labadie, MD, a senior hematology and medical oncology fellow.
The opening ceremony also featured patients, their families and Columbia physicians. Longtime rider and Velocity supporter Andrew Katz, who emceed the ceremony, highlighted the mission and impact of Velocity. 
"I'm back to ride to honor my dad's legacy," Katz said. "I'm back to show gratitude to the Columbia team for becoming a part of our family, and giving my dad those extra years of love and life. And I'm back to help Columbia solve cancer. Because the further we go on our bikes and with our fundraising, the closer we'll get to that day."
For more information about Velocity, Columbia's Ride to End Cancer and to view photos highlighting this special day that brought together patients, families, and Columbia doctors and researchers, please visit the Velocity website.