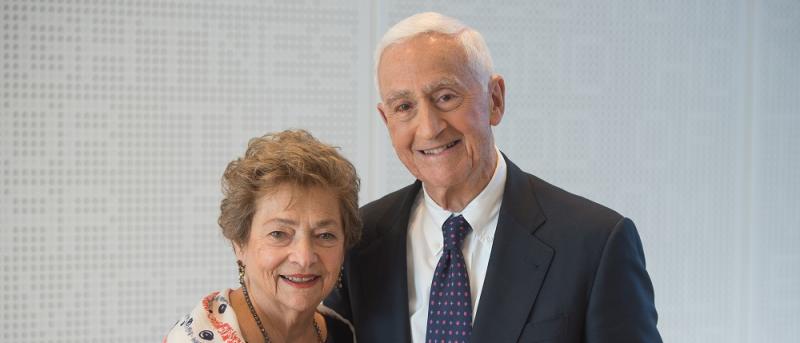 Roy and Diana Vagelos Donate $250 Million to Columbia's Medical School
Columbia University announced a new gift of $250 million from Dr. P. Roy and Diana Vagelos for its College of Physicians and Surgeons, bringing the couple's total support for medicine at Columbia to more than $310 million. A major portion of the gift, $150 million, will endow a fund that will help Columbia eliminate student loans for medical students who qualify for financial aid, currently about half of the student body in the medical school. About 20 percent of students—those with the greatest need—will receive full-tuition scholarships. University President Lee C. Bollinger announced that the school, which is celebrating its 250th anniversary this year, will be officially known as the Columbia University Roy and Diana Vagelos College of Physicians and Surgeons.
"There are no more fitting names to have affiliated with our medical school," Bollinger said. "than those of Roy and Diana Vagelos, who have made such tremendous contributions to science, medicine, and education. The new name recognizes all Roy and Diana have done, and will do, to transform medical research, education, and patient care at Columbia. Generations of students and patients will benefit from the generosity of their spirit and the sweep of their vision."
The goal of the scholarship portion of the Vagelos gift is ultimately to eliminate debt incurred by Columbia's medical students. According to the Association of American Medical Colleges, the median cost of tuition and fees at private U.S. medical schools is nearly $60,000 per year. In 2016, nearly 73 percent of students at private medical schools graduated with debt, with the median level of debt at $190,000. At Columbia, like most medical schools, students who qualify for financial aid are typically required to borrow about $30,000 per year or more to help pay for their tuition. That will no longer be the case going forward.
"Roy and Diana Vagelos truly understand that having a scholarship fund of this magnitude puts medical school within reach of the most talented students, regardless of their ability to pay," said Lee Goldman, MD, the dean of the Faculties of Health Sciences and Medicine and chief executive of Columbia University Medical Center. "Within the next five years, the income generated from this endowment will allow us to replace loans with scholarships for students with financial need, thereby allowing them to choose a medical specialty based on their true passion and highest calling, rather than on income potential." He noted that high debt levels often drive medical students to pursue higher paying specialties over less lucrative ones, such as internal medicine, pediatrics, or medical research.
The Vageloses have given more than $310 million to Columbia's medical school beginning with scholarship support soon after their graduation in mid-1950s. In addition to the $150 million of their latest gift that will provide scholarship support, another $100 million will be divided equally to support Columbia's precision medicine programs and basic science research at the Vagelos College of Physicians and Surgeons, as well as the endowment of a professorship in the Department of Medicine in honor of the Vagelos family's longtime doctor and friend, Thomas P. Jacobs, MD.
About $140 million of their total giving over the years has been structured to encourage others to make matching gifts. With those matching gifts included, the Vageloses have been responsible for about $450 million in philanthropy to the medical school.
The couple's previous giving to the medical school includes a $53 million donation to fund the design and construction of a state-of-the-art medical and graduate education center. The Roy and Diana Vagelos Education Center, designed by Diller Scofidio + Renfro in collaboration with Gensler as executive architect, opened in August 2016 and has earned the 2017 Best in Competition Award from the American Institute of Architects New York (AIANY), and the Visionary Architecture Award of 2017 from the Society of American Registered Architects.
With the renaming, Columbia's medical school is now linked to a leader of tremendous accomplishment as a physician, scientist, and executive in the pharmaceutical industry. After completing his medical degree at Columbia in 1954, Dr. Vagelos conducted research at the National Institutes of Health and Washington University in St. Louis, where he served as chair of the Department of Biological Chemistry. He worked for 19 years at Merck & Co. and under his leadership as Chair and CEO Merck was recognized by Fortune magazine for seven years in a row as the most admired corporation in America. During that time he led the effort to ensure Mectizan, an anti-parasitic medication for animals that also prevents and treats river blindness in humans, would be provided free around the world, saving the sight of literally hundreds of millions of people from blindness. Author of more than 100 scientific papers, he is a member of the National Academy of Sciences, the National Academy of Medicine, the American Academy of Arts and Sciences, and the American Philosophical Society, and he has received honorary degrees from the University of Pennsylvania, his undergraduate alma mater, where he served as Board chair, and 13 other universities, including Columbia. He is currently Chairman of Regeneron Pharmaceuticals, Inc.
The Vageloses met on campus in 1951, while Roy Vagelos (VP&S '54) was in medical school at Columbia and Diana Touliatou (BC '55) was a student at Barnard College. They had much in common, including the fact that their parents had immigrated from Greece. They married in 1955. Diana currently serves as vice chair of the Barnard Board of Trustees, and Barnard's multi-use Diana Center building, completed in 2010, is named in honor of her leadership. Both received scholarships to support their higher educations and have been giving back to scholarship funds for more than 50 years.
"This idea of giving young people the kind of support that allowed us to pursue our own educations Penn, Barnard and Columbia has been a driving force in our lives for some time," said Dr. Vagelos, who chairs the Columbia University Irving Medical Center's Board of Advisors and co-chairs the current University campaign, The Columbia Commitment. "We want P&S graduates to be able to do what they really love to do in their lives and in the medical profession, whether it's in biomedical research or clinical care. We've been lucky enough to have the chance to make a difference and we want to be sure future Columbians will have the same opportunity."