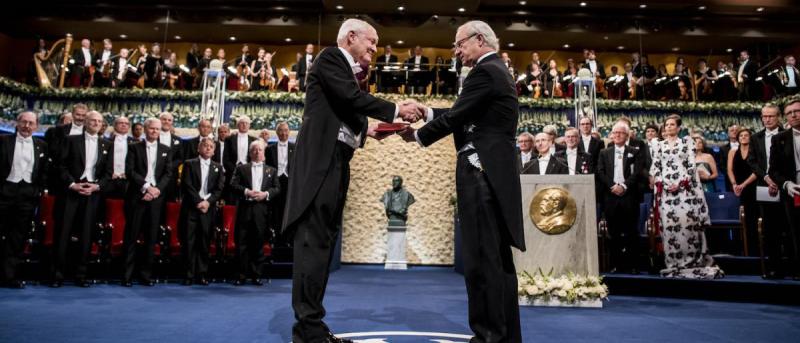 Joachim Frank accepts Nobel Prize in Chemistry
Dear Colleagues,
While most of us were still sleeping this morning, our colleague Joachim Frank, PhD, received wonderful news that has energized all of us at CUMC today: notification that he has received the 2017 Nobel Prize in Chemistry. We send heart-felt congratulations to Dr. Frank, who now joins Richard Axel and Eric Kandel in P&S and Martin Chalfie in Biological Sciences as current faculty who have been awarded the most prestigious honor in science. Such recognition reminds us of the truly outstanding faculty accomplishments that define the work we do in our laboratories, clinical practices, and classrooms every day to prove that we don't just practice medicine, we change it.
Dr. Frank, professor of biochemistry & molecular biophysics on our campus and professor of biological sciences at Morningside, joined our faculty in 2008. He shares this year's Nobel with Jacques Dubochet of the University of Lausanne in Switzerland and Richard Henderson of the MRC Laboratory of Molecular Biology in Cambridge for developing cryo-electron microscopy to determine the high-resolution structure of biomolecules in solution.
Earlier this year, Dr. Frank shared the 16th annual Wiley Prize in Biomedical Sciences for pioneering developments in cryo-electron microscopy. He also received the 2014 Benjamin Franklin Medal in Life Science from the Franklin Institute of Philadelphia for development of cryo-electron microscopy, for using the technology to investigate the structure of large organic molecules at high resolution, and for discoveries regarding the mechanism of protein synthesis in cells.
Cryo-electron microscopy makes it possible to capture the image of objects too small to be seen by light microscopes. Viruses, proteins, and even atoms are visible with today's electron microscopes. In the late 1970s, Dr. Frank developed techniques that process thousands of 2-D images taken of identical molecules, lying in different orientations, into a single composite 3-D image. These techniques are still employed today by most structural biologists who use cryo-electron microscopy.
We are arranging a reception to congratulate Dr. Frank on being named our newest Nobel Laureate. We will share details of the reception shortly. Until then, please join me in congratulating him on this extraordinary honor, the first Nobel awarded to a P&S full-time faculty member since 2004.
Lee Goldman, MD
Harold and Margaret Hatch Professor of the University
Dean of the Faculties of Health Sciences and Medicine
Chief Executive, Columbia University Medical Center
Watch the press conference.