The Hope Ahead Campaign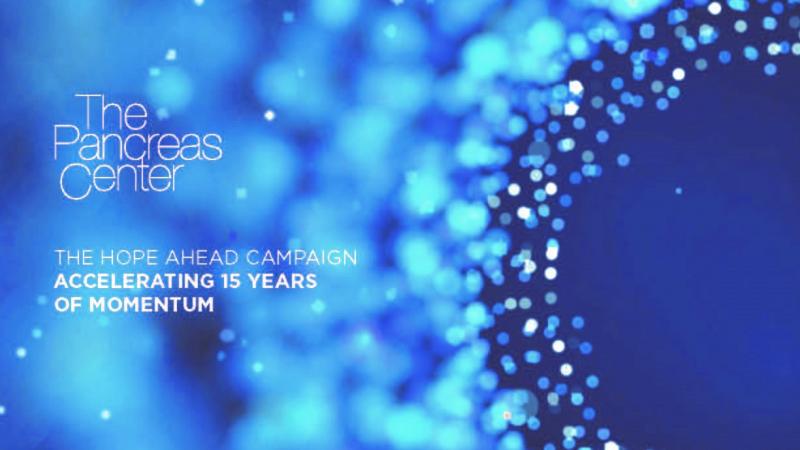 The Pancreas Center at Columbia is New York's pre-eminent center for pancreatic disease care. Our team provides compassionate, full-service care for the treatment and management of all pancreatic disease, no matter the severity or complexity. Our full-spectrum center includes surgery, medical, and psychosocial care for patients and their families.
Since 1935, when Columbia surgeon Dr. Allen Whipple developed the 'Whipple' procedure—a complex surgery that remains the most common method of removing pancreatic tumor —Columbia has been home to science-driven, life-saving care for pancreatic cancer. With the support of a world-class research team, we continue to advance this legacy today, bringing more patients better options for treatment, diagnosis, and prevention of pancreatic conditions.

As The Pancreas Center looks ahead to a brighter future, we have outlined a vision that will build on our success, leverage advancements taking place across the field of medicine, and transform the established expectations for pancreatic cancer. To make this vision a reality, The Pancreas Center is launching a strategic philanthropic campaign to raise $10 million in currentuse funding over the next five years. This is an ambitious goal. With your support, the Hope Ahead Campaign will help us solidify our place at the top of our field and bring meaningful benefits to our patients. We hope you will join us.
To learn more about this exciting campaign, view our brochure here.
Visit the Pancreas Center website to learn more about the exciting work taking place here at Columbia.
https://columbiasurgery.org/pancreatic-care
If you would like more information or to discuss a philanthropic commitment to the campaign please contact Rebecca Solinsky at 646.799.2793 or rebecca.solinsky@columbia.edu.