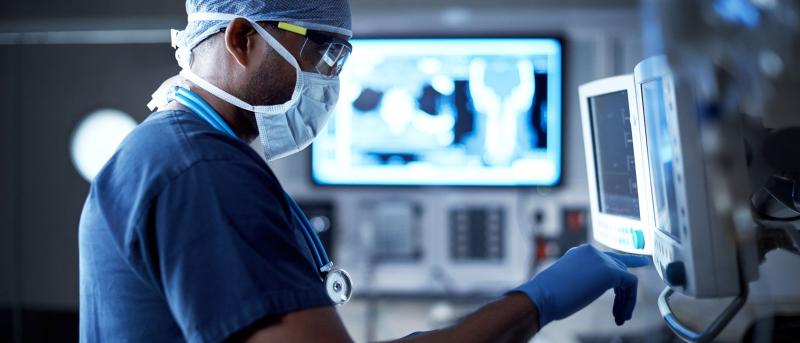 Coronavirus - How You Can Help
COVID-19 is a health challenge unlike any other in our lifetime. The Vagelos College of Physicians and Surgeons and Columbia University Irving Medical Center are on the front lines of both patient care and research to save lives, limit the spread of the virus, and develop effective new treatments as quickly as possible.
We have been asked by many of you how you can help, and we are grateful to our friends for stepping forward at this critical time for our national and global community. Our most pressing needs fall into the following categories.
Patient Care Response
As COVID-19 continues to spread, Columbia's medical campus in Northern Manhattan is anticipating a surge of patients that will test our clinical capacity and personnel in unprecedented ways, particularly through our emergency department and intensive care units. Donations will help support the following.
Additional ventilators are urgently needed for patients who will experience severe respiratory complications. Personal protective equipment for physicians is also urgently needed, including masks and respirators. Our hope is to avoid the supply shortages reported by hospitals in Italy and other countries that are 10 or more days ahead of the United States in experiencing the wave of COVID-19 cases.
Larger tents will provide more space to safely triage, isolate, and treat patients with COVID-19 as more cases are seen. Smaller individual tents for the most ill patients will further limit viral transmission.
Remote physician consultations will be used whenever possible to minimize close contact and reserve our resources for the expected surge in COVID-19 patients.
Additional resources in this area will help support the health care providers treating high volumes of COVID-19 patients, to help prevent physician burnout.
Research to Develop New Treatments for COVID-19
Beyond patient care, Columbia is leading essential research to develop rapid response testing and find effective treatments and potentially cures for COVID-19.
Rapid response testing is critical to diagnose patients as well as to understand and reduce new viral infections, for the safety of the community and health care workers treating patients with COVID-19. The point-of-care tests allow the team not only to conduct coronavirus testing quickly, but also to do it systematically – analyzing data in real time so that we can respond as nimbly as possible with this fast-spreading virus.
In response to this fast-moving threat, our faculty are working quickly to develop research studies to test the effectiveness of preventive treatments, including hydroxychloroquine, for health care workers who may have been exposed to COVID-19.
In addition, we are fortunate to have world-class virologists, molecular biologists, chemists, and engineers who are responding to the coronavirus outbreak. A key leader in these efforts is David Ho, MD, an expert in coronaviruses and Director of Columbia's Aaron Diamond AIDS Research Center. Dr. Ho's team is working collaboratively with scientists throughout Columbia on multiple approaches to identify new therapies and interventions. Their work is focused on developing anti-viral compounds, which fall into two main categories, with promise to treat COVID-19: 1) Small molecule blockers of critical virus enzymes, known as protease inhibitors and polymerase inhibitors, and 2) monoclonal antibodies, which can kill the virus or help to prevent it. After the COVID-19 threat has been contained, our research has the potential to lay the groundwork for better treatments for coronaviruses as a larger group, which pose a recurring, serious threat to global health (as was the case with SARS in 2002–2003 before its containment).
Support for Medical Students
Finally, as everyone in the Columbia medical community navigates this challenge, our medical students will require special support. Columbia will finish the semester through remote classes, and all students who are able are moving out of the dormitories to prevent transmission of the virus. Medical student clerkships and rotations have now been suspended. Recognizing that these sudden and special arrangements may cause hardship for some, we are offering financial support to students making the move. We have heard from a number of alumni who have shown a desire to help students directly.
In addition, working with medical school leadership, students at the Vagelos College of Physicians and Surgeons have established the COVID-19 Student Service Corps. Through this effort, they will volunteer on a community health hotline to provide essential COVID-19 information to patients, assist faculty in COVID-19 related research projects, support mental health services for faculty, staff, and students, and participate in our expanding telemedicine programs. Immediate needs for our for COVID-19 Student Service Corps include funding for student care packages, program supplies, and jackets for participants.  
If you wish to support our students, you can make a gift today through our Columbians Care for Students portal, and direct your gift to the VP&S Dean's Fund. 
To learn more about how you can help support these efforts, please contact:
Lynne Roth 
lynne.roth@columbia.edu
212-305-5404
Alternatively, you can also make a gift through our online giving platform.