13th Annual Babies Heart Fund Golf Classic
To Benefit Pediatric Cardiology at Columbia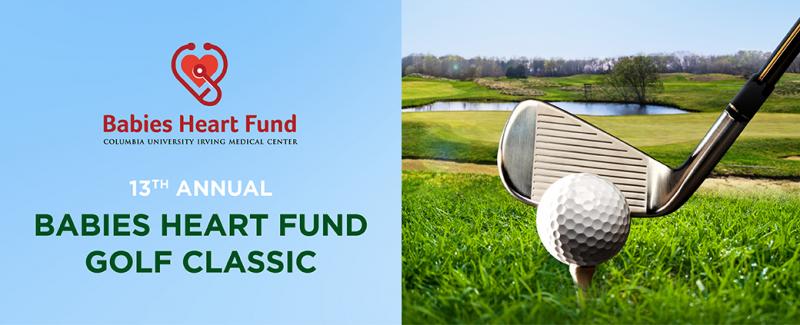 Space is limited. Registration is based on a first come, first served basis. 
As we continue to monitor and respond to COVID-19, we will keep you apprised of any changes to this event.
The Annual Babies Heart Fund Golf Classic benefiting the Division of Pediatric Cardiology at Columbia is back! We are looking forward to gathering at The Golf Club of Purchase on Monday, September 20, 2021 for our 13th year of tournament play. Join Babies Heart Fund board members, families, and friends along with Columbia faculty as we tee off together to support the goal of curing Congenital Heart Disease (CHD). 
Purchase Tickets and Sponsorships Here
Sponsorship and Ticket Information 
Title Sponsor  - $12,000
Logo placement on premium gift (to be produced by Columbia)
Two foursomes
Food and beverage for two foursomes
Prominent logo placement on tournament banner
Prominent logo placement on tournament signage at food and beverage locations
Tee box signage on two holes
Eagle Sponsor - $6,000 (Sold Out)
Logo placement on golf hat (to be produced by Columbia)
One foursome
Food and beverage for one foursome
Logo placement on tournament banner
Logo placement on tournament signage at food and beverage locations
Tee box signage on one hole
Birdie Sponsor - $4,000
Logo placement on golf ball (to be produced by Columbia)
One twosome
Food and beverage for one twosome
Logo placement on tournament banner
Logo placement on tournament signage at food and beverage locations
Tee box signage on one hole
Driving Range Sponsor - $3,000
Logo placement at driving range
One twosome
Food and beverage for one twosome
Putting Green Sponsor - $3,000
Logo placement at putting green
One twosome
Food and beverage for one twosome
Boxed Brunch Sponsorship - $3,000
Logo placement on to-go brunch boxes for each attendee 
Logo placement on signage at brunch station/s
One twosome
Food and beverage for one twosome
Golf Cart Sponsorship - $3,000
Logo placement on each golf cart identification sign
Logo placement at golf cart pick up
One golfer
Food and beverage for one golfer
Hole in One Sponsorship - $2,000
*Multiple sponsorships available*
Logo placement on signage at each eligible hole in one hole (2 available) 
One golfer
Food and beverage for one golfer
Longest Drive Sponsorship - $2,000
Logo placement on signage at longest drive hole
One golfer
Food and beverage for one golfer
Hole Sponsor - $600
*Multiple sponsorships available*
Tee box signage on one hole
Foursome Entry - $4,400
One foursome
Food and beverage for one foursome
Single Player Entry - $1,200
One golfer
Food and beverage for one golfer
Donate to the Babies Heart Fund Here