Esther E. and Lewis P. Rowland
Providing for future generations through your will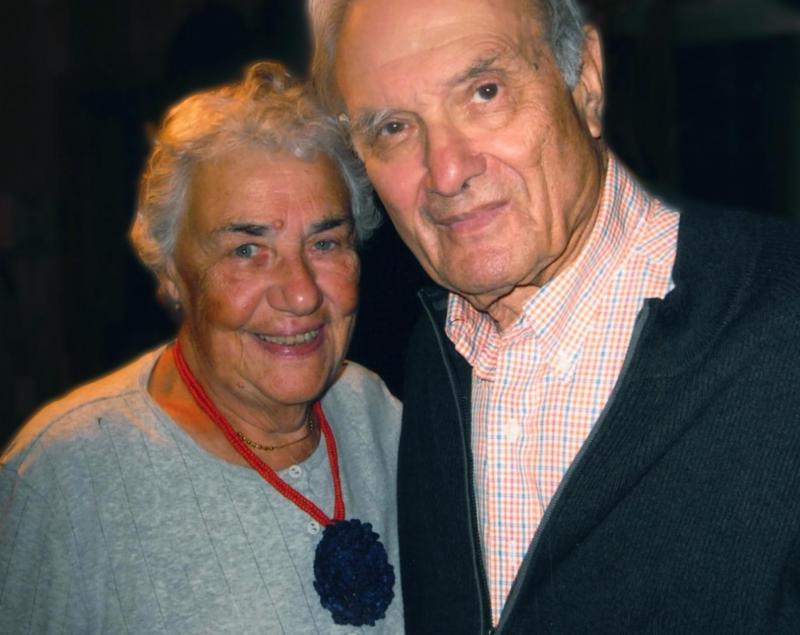 Lewis P. "Bud" Rowland, MD was a world-renowned neurologist, chair emeritus and professor of neurology at Columbia University Vagelos College of Physicians and Surgeons (VP&S). Over the course of 25 years, Dr. Rowland chaired Columbia's Department of Neurology and it became one of the best neurology programs in the world. During his tenure as chair, he founded two neurological disease centers at Columbia.  He also installed the first Patient Intensive Care Unit at the Neurological Institute at Columbia. In honor of her late husband's legacy, and in accordance with his wishes, Esther Rowland made a significant gift to benefit the VP&S Department of Neurology.
Richard P. Mayeux, MD, Chair, Department of Neurology said, "Bud Rowland's career was dedicated to the care of patients, the education of trainees, and research. Thus, it was no surprise that his last gift to the department was to support these three endeavors. His passion for the welfare of patients was as infectious as his drive to understand the causes of neurological disease."
When asked about the gift, Mrs. Rowland explained, "He attributed so much of his success in life to the institutions that he was lucky enough to be associated with; namely, Yale, where he completed his undergraduate work and medical school; Columbia, where he trained as a neurologist, then served as a member of the faculty, and later as the Chair of the Department of Neurology; And the University of Pennsylvania, where he had his first experience as Chair of a neurology department. Bud was adamant about supporting the institutions that shaped his career."
Mrs. Rowland went on to explain the timing and nature of the gift, "his admiration and his appreciation for Columbia were so strong that he wanted to leave the VP&S Neurology Department a sizable amount of money. He left funds in a trust with a gift that would have gone  to Columbia after I passed away. I thought it was a good idea to make the gift now so it could be used immediately, and so the family could see the impact and the benefits of the gift."
The generous gift has three components:  The Esther E. and Lewis P. Rowland Neurology Fund, a quasi-endowed fund to be used at the discretion of the Chair of the Department of Neurology,  This is where the bulk of the money has been assigned in keeping with Dr. Rowland's belief that future Chairs should have access to an unrestricted pool of money to be used as needed. A smaller amount of money was assigned to the Lewis P. Rowland MD Endowed Lecture Fund, and an even smaller amount to a current-use fund to support an oral history project that will include interviews with many of Dr. Rowland's illustrious colleagues.
On March 29, 2019 Robert H. Brown, Jr., DPhil, MD presented the Inaugural Lewis R. Rowland, MD Endowed Lecture. The second annual lecture speaker, Stanley H. Appel, MD, presented at the last Grand Rounds before the pandemic hit New York City.  
"About the history project," Mrs. Rowland explained, "Bud had a strong interest in the history of   medicine and especially the history of neurology and of the great department at Columbia."
Dr. Rowland chaired the VP&S Department of Neurology and directed New York-Presbyterian's Neurology Service from 1973 to 1998. He was known for research in neuromuscular diseases and age-related neurodegenerative diseases, especially ALS. He wrote many papers and edited two books on ALS.  ???(PLEASE DOUBLE CHECK THIS) Decades ago, he predicted that genetics would come to dominate research into Alzheimer's and other neurological diseases and advocated for what became translational neuroscience with his founding of Columbia's centers for amyotrophic lateral sclerosis and muscular dystrophy.
Mrs. Rowland shared more about her late husband, "There was almost no limit to how far his vision extended and he had a special talent for knowing in what direction research should go.  His mode of leadership developed from his days as an athlete, where he learned how to be a team player. He listened carefully to the young researchers working under him rather than telling them what to work on. He consulted with them and encouraged their independence. After he died, one after another of the neurologists whom he trained told us that he was their mentor. He was like a father figure. He was a beloved chairman."
She added, "I think it's important to know that another important side of Bud was his belief in social justice and his belief in equality. He honored Columbia's affiliation with Harlem Hospital and provided a top-notch staff of Columbia neurologists to run a department there. Although all VP&S department chairs had been invited to have a branch at Harlem, only Neurology and Physiatry maintained a full affiliation. All the neuro residents were required to rotate at Harlem, and Bud himself traveled to Harlem for bi-weekly rounds.  He was a real humanist and he fought for minorities in medicine. He fought for women in medicine, and he fought for equal treatment of people who were poor or rich, and of all ethnicities. And he believed that good medical care should be available to all. We met at a fund-raising party for a national health insurance program in 1952. And we were still waiting for that to happen when he died 65 years later."
Topics